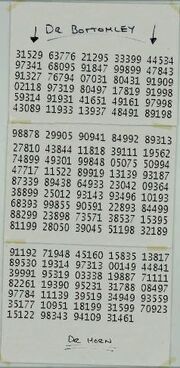 DR BOTTOMLEY

31529 63776 21295 33399 44534
97341 68095 91847 99899 47843
91327 76794 07031 80431 91909
02118 97319 80497 17819 91998
59314 91931 41651 49161 97998
43089 11933 13937 48491 89198

98878 29905 90941 84992 89313
27810 43844 11818 39111 19562
74899 49301 99848 05075 50994
47717 11522 89919 13139 93187
87339 89438 64933 23042 09364
38899 25012 93143 93496 10193
68393 99855 90591 22893 84499
88299 23898 73571 38537 15395
81199 28050 39045 51198 32189

91192 71948 45160 15835 13817
89530 19314 97313 00149 44841
39991 95319 03338 19887 71111
82261 19390 95231 31788 08497
97784 11139 39519 34949 93559
35177 10951 18199 31599 70923
15122 98343 94109 31461

DR HORN

Discovery/DecryptionEdit
Found on a whiteboard in the chapter Questionable Ethics
The message was encrypted using a SECOM Cipher, with a key of "LASER OPTRONIC LINEAR INDUCER CANNON" - found on a whiteboard in the game.
The SECOM cipher was determined from the Code C message (Extension of a VIC Cipher).
Decrypted MessageEdit
When decrypted, the message reads:
IT HAS COME TO MY ATTENTION THAT RESEARCH INTO POTENTIAL ALTERNATIVE BRIDGING METHODS MAY BE SUPPORTED BY THE INCLUSION AND APPLICATION OF THE LASER OPTRONIC LINEAR INDUCER ARRAY TO ACT AS AN AXIS MODULATOR FOR REGULATION AND FOCUSING AN UNKNOWN ENERGY FORM WAS DETECTED WHILST INVESTIGATING THIS HYPOTHESIS PLEASE USE CODE D 0914 TO COMPLETE THE SEQUENCE ON MY SITE
Uses for the clue + potential leadsEdit
Other InformationEdit
An additional clue pointing to the SECOM cipher was provided by Stormseeker. After user faed discovered a password protected area on Stormseeker's website (/wibble) [1], forum member CPU sent a private message to Stormseeker inquiring about it [2]. This is the reply he received [3]:

Sorry, can't give you access to that one. Even though it looks like it, it really has nothing to do with the ARG. Congratulations though to the people solving stuff, you're all finally thinking outside the box. Obviously I would like to help further, but that would defeat the object of the game. Most people would have given up by now, which is a shame, you're all so very close to finding the answer.
---

It's everywhere you look.

After a week or so, user Gunsrequiem realized that Stormseeker's reply formed an acrostic, spelling out "SECOM" [4]. It was not long before Gunsrequiem finally solved the code [5].
Due to the original description of the SECOM cipher being somewhat unclear on an important step of the cipher algorithm, namely the calculation of the two transposition widths, the JavaScript implementation of the cipher written by one of the forum users was not able to decrypt the message, even though it seemed to work with the example message used in the description of the cipher. At the time, the only tool available that could successfully decrypt the message, was a tool written by the author of the aforementioned SECOM cipher description. However, it took a while before the existence of this tool was discovered.
SECOM CipherEdit
External LinksEdit
Ad blocker interference detected!
Wikia is a free-to-use site that makes money from advertising. We have a modified experience for viewers using ad blockers

Wikia is not accessible if you've made further modifications. Remove the custom ad blocker rule(s) and the page will load as expected.